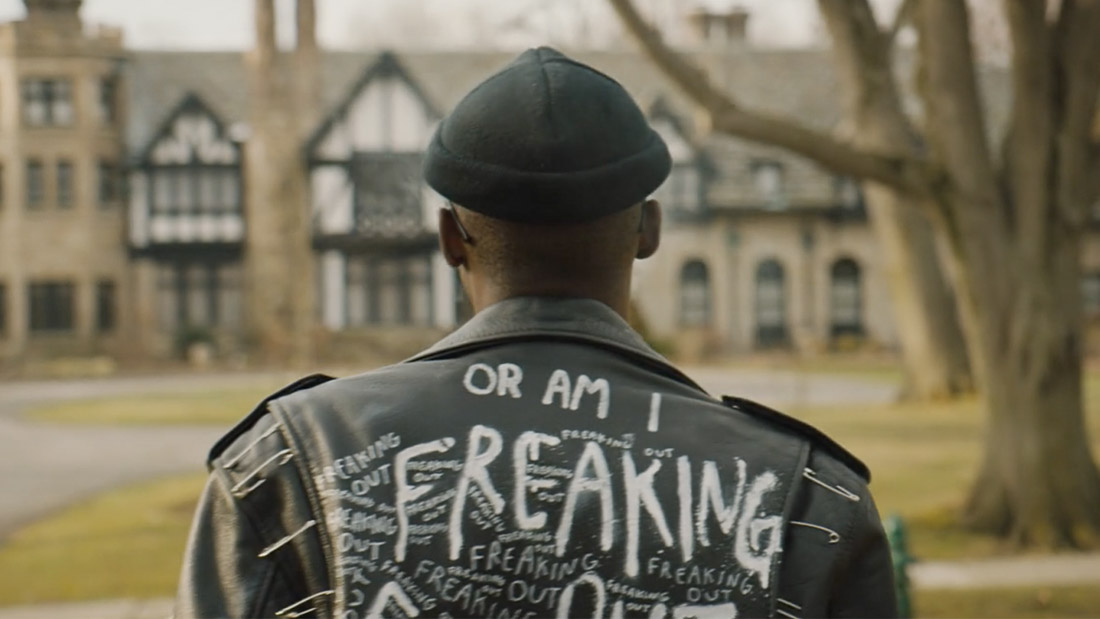 by Kathia Woods
Richard Wright wrote this novel in 1940. The American Negro was still grappling with Jim Crowe and fighting for freedom. Black Americans were migrating to the inner city for work but found themselves still living in poverty and facing racism.
Native Son the movie (2019) continues this conversation but in a modern-day setting.
Rashid Johnson chose this compelling novel for his directorial debut. He along with Pulitzer Prize winner Suzan-Lori Parks updated the screenplay for today's setting.
The opening scene introduces us to a Bigger aka Big. He is still struggling with how America treats and views black men. On the flip side, we get to see a Bigger that embraces his individuality. He's a punk kid. It's apparent in his choice of clothing. Long trench coach with detailed paintings, 1950's style leather jacket, skull rings, and green hair. He equally loves Bad Brains and Beethoven. The clothing informs the world he's not interested in conforming. He's a rebel.
Big receives a job offer. The job pays well, but it would mean entering the white world. This white world is the Daulton's.
The Daulton's daughter Mary further complicates things.
She's an idealist and uses Bigger to justify her ideals. She sees him as an entryway to a world her and her friends discuss but witnessed. She like Bigger wants the world to see her as this activist instead of a spoiled rich brat. Boyfriend Jan is the connect. An excellent example of this is it in the scene where Bigger drops her off at socialist movement meeting. Mary uses Big to solidify her place with the group. Here is this negro boy that I'm presenting to you that deals with all the stuff we debate.
As stated, Big is not a joiner, he's a rebel. He looks at Mary and their friends as kids that love to talk about the "struggle" but could never endure it. They amuse him.
Ashton Sanders is dynamic as Bigger. He gives us a new version of this complex character. It's in the details in this performance. Its little things like how he puts on and takes off his glasses. The way he walks. It's more of a stroll than an actual walk. It's a silent rage.
Kiki Layne fresh of her movie debut with" Beale Street" plays Bessie. Kiki gives another strong performance. She's tough and soft at the same time. We ache for her when she recognizes what Big did and what stirs inside of him. The man that she loves has evil in him.
Sanaa Lathan as Trudy was underused. I understand that Big is the center point of the movie, but I wanted to know how she as a mother was dealing with her son's choice. Here was an opportunity for us the audience to have context.
The issue with Native Son is, in its quest to adapt to current times it loses focus. Big is not a hero and dare I say a decent person. He's manipulative and calculating. The other issue is the audience must make assumptions. We don't get to delve into his mother's feelings. She doesn't call or text to ask if he's ok or the dreaded question did, he do it? All questions any mother would ask. Big makes calculated choices not because of fear but out of selfishness. I understand that as Black people we don't always feel comfortable painting black men as evil, but we can't ask for artistic freedom and then worry about political correctness. That's an oxymoron. Sometimes we must commit to honesty rather than being liked. In this case, accept his darkness not defend it; hence we have great performances but not a great film
This Native Son is going to stir conversations. Conversations that are going to make most uncomfortable. Lovers of the book are not going to like the changes. Black moviegoers want authenticity not political correctness. The underlying issues still exist. We still have "Biggers" in 2019, and that may be the saddest takeaway of all.
Scale- this movie gets a seven for performances.
Diversity- This movie receives a ten because this movie has a black cast, director and screenwriters.